"How to make a progress report"? – This is one of the most complicated questions that project managers face during and at the end of their projects. Also project managers often try to understand another question: "progress report vs status report". If you are a project manager, probably you have ever tried to find answers for these questions. The brief guidelines given in this article will help you understand the definition and find software to build reports and monitor project progress.
A project report is a documented statement of progress and status of activities occurred within a project. The progress report purpose is to allow interested and concerned persons to monitor current progress of a project and estimate time and resources needed to accomplish the project.
The following project report guidelines can be used to create a report:
Goals and objectives: list your specific goals and objectives and indicate what steps have been taken to accomplish these goals and objectives.
Project work description: specify tasks and jobs that have been done to fulfill your project. Also add deadlines.
Deliverables: create a list of deliverables produced during the project.
Personal reflection: include a few words in your report to give some suggestions and describe any interesting things occurred throughout the project.
CentriQS is a software solution that allows creating project reports and reviewing current progress of your projects. The software lets make reports in text, PDF, Excel, HTML and other formats. You can use Filters to monitor incomplete project tasks, track overdue assignments, and to supervise assigned users.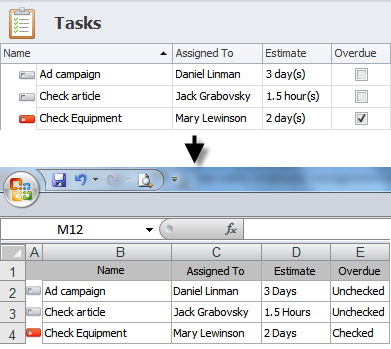 Action Plan:
Launch CentriQS
Go to the Tasks view and Application Menu to export curretn view to required file format
Use Filters to focus on required project tasks
See also:
Easy and quick report on particular tasks
CentriQS Reporting Tasks Solution

CentriQS offers several tools for task reporting. Users can work with Pivot grid, generate charts and use Time Logs view which lets filter, group and sort time logs for creating time tracking reports. These reports can be used for various purposes such as performance measuring, payroll calculating, client billing, etc.