Understanding time management advantages and disadvantages will help you evaluate your abilities and skills and start planning your working time better. Let's briefly review basic advantages and disadvantages.
Time management disadvantages are:
Discipline and self-improvement are mandatory. Once you have decided to plan your time, you have to discipline yourself and work on self-improvement.
Access to technologies is required. You have to constantly read information about advanced and new techniques and tools. Such information can be found in Internet.
Time management advantages are:
More tasks completed. As your time is well planned you can do more tasks during your workday.
Flexibility. You are flexible when planning your next meeting because all your tasks are listed in your to-do list and you can use priorities to set task execution sequence.
No event missed. You no more worry about missing events because your workday is scheduled and reminders and alerts are set for urgent events.
To earn all the benefits of time management you need to use software. CentriQS is a powerful software solution that helps plan and manage your workday. It allows you to design to-do lists, schedule tasks, set reminders, prioritize events, and make reports.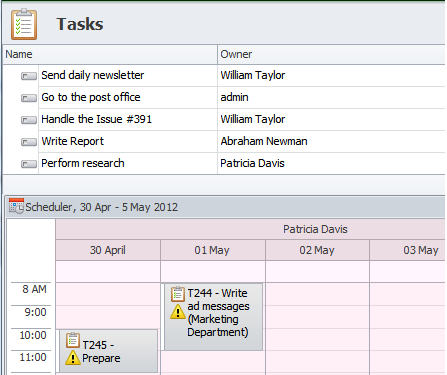 Action Plan:
Run business management software and log into your database.
Go to the Tasks view to create tasks and combine them into to-do lists.
Use Priorities (Low, Normal, High) to plan task execution sequence.
Schedule your tasks and to-do lists by using the Scheduler view
Use Reminder to set alerts for urgent tasks.
CentriQS Task Scheduling Solution

CentriQS users can choose the most convenient way to schedule tasks. If most of your tasks require scheduling, you can add new tasks directly in the Scheduler view. If you schedule tasks from task list, you can drag'n'drop created tasks to the Scheduler panel. If you set task start and finish dates and time, you can do this on the Schedule tab of task detail view. Also CentriQS supports "splitting task" into multiple schedule items in case you plan to break task into parts and schedule them at different time and days of the week.