Procurement Planning is one of the most important and vital business processes in every company. It gives a procurement plan aimed to provide productions with necessary resources. When lead-times are too long and materials are too difficult to deliver, the analysis process (also known as the purchasing process) will play a pivotal role. The company management will ensure that the company buys appropriate products at the right price from the right suppliers. The process becomes more significant if the company is aspired to produce goods or services while the production is depended on external suppliers and resources.



Play Demo

Procurement planning gives the following benefits for the company:

materials are always available for production
optimization of material and resources prices
costs and procurement time are minimized
reduction in risks
balanced execution of production plan
effective partnership between the company and its suppliers

Procurement planning can be divided into two separate categories: high value or strategic analysis and annual procurement planning.

High value or complex procurement planning

This category assumes that from a variety of goods/services there must be a group of goods/services that is defined as a strategic (priority) purchases or has the highest values. High value or complex procurement planning should be accomplished according to the following steps:

Analysis the needs and requirements
Considering options
Specifying company's strategy
Managing contacts and evaluating outcomes

Annual procurement planning

The goal of annual analysis is to encourage the company management to check current situation with available resources and deliveries, and to adjust it with plan. This requires coordination of business strategies and plans. Careful procurement management lets the company optimize costs and increase production. It gives the company a complete procurement process, which explains step-by-step how to purchase and from which suppliers. When drawing up annual procurement plan, the company management should consider the following four stages:

Supporting service delivery outcome
Evaluating company expenses on goods/services
Improving process
Improving performance goals and measures

Using CentriQS
The way to inculcate these mentioned two types into company business process managers can use the project management software – CentriQS. This application is designed to create and manage projects, work up plans and track accomplishment of tasks. CentriQS lets the project manager organize a well-collaborated and well-coordinated project team. Let's see how you can apply CentriQS to succeeding annual planning.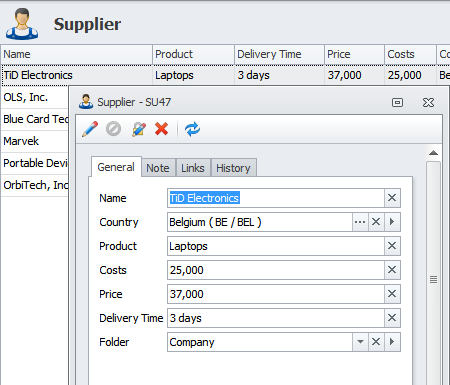 For each stages of the annual procurement planning you need to create a task group and title them. The new groups will have several tasks and you can assign these tasks to project team members, set priorities and due dates, etc. For example, the task group "Supporting service delivery outcome" has four tasks:

Resume company's objectives
Determining company's strategy and policies
Defining contribution of to service delivery
Creating a list of analysis goals and setting priorities

As a project manager you can assign these tasks to team members. CentriQS sends notifications on changes once the tasks were assigned to employees. The success and efficiency of any project depends on, first of all, proper and in time task accomplishment. In order to define timeframes of the project, you can set due dates, start and finish date, actual and estimated time for a task. All dates and deadlines involved in the project can be scheduled using built-in Scheduler. You can track tasks in daily, weekly, monthly or yearly view.

CentriQS has a system of permissions that restricts access to a task or task group. This allows the project manager to make focus on the tasks, and show an employee what job he has to do at the first place.

Play Demo

---