Activities and projects in Telecommunication Company are supported by certain number of official and inner documents. Task management solution for Telecommunication Company stands for associating tasks with documents within one computer-based system as far as this approach saves a lot of time and allows members of telecommunications team to work more effectively – there is no need to search for documents, templates, manuals etc because everything necessary is in the one accessible place.
Associating documents (files and links) with tasks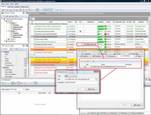 In VIP Task Manager, process of setting relations between tasks and documents is carried out through attaching files or links to tasks . For example telecommunication engineers and installers usually work with various types of hardware manufactured by different companies, having different specificity of setting up and operating, therefore such specialists need to learn a lot of documentation (tutorials, instruction, manuals and so on). Such documents are usually stored in PDF-format. With a help of special task options, VIP Task Manager allows storing, sharing and organizing such technical documentation, along with all kinds of administrative and technical reports in formats of MS Office, technical on-site photos, electrical and network schemas stored in their appropriate formats, templates, and other documents which ever can be digitized.
Making and sharing Notes in Telecommunication workflow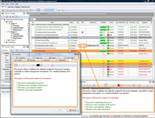 Usually workflow of Telecommunication Company requires from managers and engineers giving additional instructions to subordinates, sharing quotations from technical documents, providing explanatory notes and receiving reports. For satisfying these purposes, each task in VIP Task Manager has special Notes panel where additional information regarding tasks can be inputted and shared . This information can be printed out on a paper for convenience of field specialists who work outdoors . Notes panel can be used for entering short task reports and documenting activities of telecommunications practitioners, describing course of task performance, issues met and solutions found.