Step 6: Sharing Telecommunication Company tasks
Sharing tasks is actually the core conception of collaboration. Every project in telecommunication industry is a result of teamwork where engineers, craft workers, office managers and IT specialists contribute their efforts towards shared objectives. VIP Task Manager is task management solution that offers a number of functions to facilitate realization of teamwork projects in telecommunications industry through supporting awareness of team members and enhancing workgroup coordination on levels of interdepartmental and interpersonal co-operation.
Notifications (Watch list)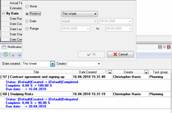 To support sharing of tasks in Telecommunication Company , VIP Task Manager has a number of specific tools. One of them is a flexible system of in-software and e-mail notifications – with their help each user can be instantly informed about significant events happened within the system. These automatic notifications are designed to ensure informing team members about new assignments and details of project progression. Each notification contains a brief description of changes made, so notification recipient (whether it is task owner, supervisor or performer) can quickly understand what was done at task.
This collaborative software for Telecommunication Company provides users with possibility to discuss their tasks in real time. Each task in VIP Task Manager has special Comments panel wh ere users can explain their thoughts, ideas and questions. Also team members can use this panel in order to report about their issues or to communicate with colleagues and managers regarding some questions . Comments panel allows customizing fonts and sorting comments , as well as allows printing dialogs out. Important comments marked out with warning colors will quickly attract user's attention. Users can receive notifications when new comments are added.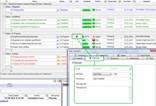 Employees working in Telecommunication Company can be assigned to hundreds of tasks that they should execute during some period of time and often tasks with low priorities can be postponed for the last moment. When Telecommunication Company has intensive workflow , employees can let some unimportant tasks stay undone and , in a result, they can forget about these tasks at all. To avoid such issues , VIP Task Manager provides their users with possibility to set pop-up and e-mail reminders. Reminder can be set up to work at certain date or when certain time period is left before task Start, End or Due date .