CentriQS Sales Management Solution

CentriQS database 'CRM for Sales' lets your sales force work with leads, opportunities, contacts, accounts, quotes, invoices, orders and other aspects of sales management and automation. CentriQS allows both storing customer data and analyzing it with help of Pivot grids, charts views and dashboards.
During the approach stage of sales process the sales manager gets an interview with a prospect for the first time. It's generally known that the first impression is extremely important, so the sales person should carefully prepare for the interview and think through all expected and unexpected situations during the contact with the prospect. Without debugged system of preparation for the contact sales manager can face following problems.
Without well thought-out plan
During the approach phase sales person must know as much about the prospect as possible. It's very important to involve the potential client in the conversation that will help to discover his needs. Most likely that the prospect will wave away the first questions and offers of sales manager. Competent seller must gently turn the talk to the direction that will help to discover client's needs and develop the solution that may rouse his/her interest. So, sales manager should be ready to react upon any interlocutor's action and answer. Otherwise the seller may create the wrong impression upon the client and miss the opportunity to arrange the deal.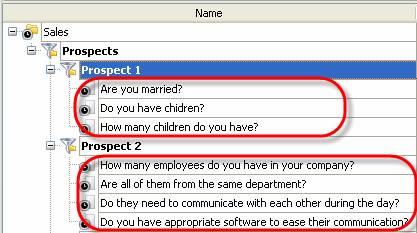 Without prospect's replies archive
As all actions of approach stage are directed to identify client's needs and to work out the solution that will satisfy them, it's important to store all prospect's answers and obtained information about his/her family, activity, interests, etc. If there is no centralized database of each client's answers, it's difficult to track these answers, identify client's needs and analyze them in order to develop the most appropriate solution for each prospect.
Moreover, without clear archive of prospect's replies the seller won't have a possibility to track conversation history and analyze the mistakes that he or she perhaps made during the interview.
Tracking and recollection of the dialog later may discover some chances that could be used in favor of the sale and may help to prevent such omissions in the future. Otherwise, next time in a similar situation sales person may make the same errors just because of neglecting to learn by the own mistakes.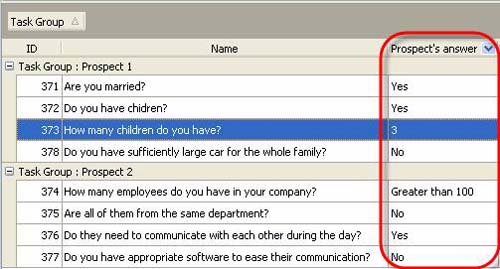 Lack of scenario
Before going to the interview sales person should make up his/her mind that there won't be a second chance to make the proper impression upon the prospect and build rapport with him. So the seller should be well-prepared and have clear scenario about what kind of open-ended questions and when he or she must ask the potential client in order to get desired result. Without detailed 'crib' sales manager may become confused during the conversation, create an impression of disorganized person and incompetent specialist.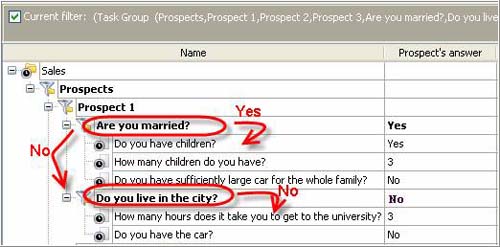 Solution
Problems mentioned above can be solved with the help of special database sales software that is designed for managing all stages of sales process, including approach phase. Such sales software is VIP Task Manager. It's a perfect tool that provides all solutions required for successful management of sales approach process.
VIP Task Manager allows to create a database of all questions for each prospect for the future interviews and all possible variants of client's answers. With VIP Task Manager in your laptop during the conversation you won't miss any important question that may have an influence on the sales result, will store all replies given by your interlocutor and be able to track and analyze them in the future.
Moreover, you can prepare a scenario of your interview and VIP Task Manager will prompt you next question that is rationally to ask depending on already obtained information.
You can set a reminder for future meeting with the prospect, so you won't miss the time of the conversation and will be able to prepare for it beforehand.
So, by using VIP Task Manager you will be able to make an impression of friendly professionalism upon your client and create necessary prerequisites for further rapport and good relationship.
How to use VIP Task Manager for approach
Start VIP Task Manager
Create a new task group "Prospects"
Create a new custom fields, for example "Prospect's answer", "Next question", etc
Create a sub-group, for example "Prospect 1"
If the question that you want to ask brings a row of next questions, its better to create a sub-group with the name of this question. For example, you ask the client if he is married
The questions, that may follow the first one, assign to this task group. In our example, if the interlocutor is married, you need to ask whether he has children, how many, etc. If he is not married there is no sense to ask him about the children and you can simply omit the questions assigned to this task group
For next question that may include many sub-questions create following new task group, and so on
While you are with the client, enter the answer that he or she gives into task custom field and the number of the question that you ask next
You can use this scenario as a template for other interview by duplicating task group "Prospect 1" and entering required changes if necessary
After the interview track the questions and answers and analyze client's needs and your mistakes if they were made
Go to the next stage of Sales Management Process - Making the Presentation